My most recent project is a scarf for a silent auction at my church. I have a lot of designer yarns left over from previous projects, so my goal is to use some of them up making these scarves. I figure that more than one large Rubbermaid tub of leftover yarns is too many. (Don't think that I'm slacking, my stash of non-leftover yarns fills several large tubs.)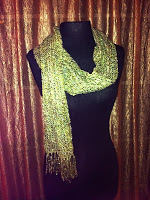 For this project I picked a couple of different yarns to mix in the warp. And I used them up! Yes, all the way up. But I couldn't find yarn for the weft in my stash that was just right. Time for a trip to the yarn store.
So here's the first thing about yarn. Remember the old potato chip ad "bet you can't eat just one"? Well, for yarn, it's "bet you can't buy just one." Because the shop did have the perfect yarn for the weft. And it had some really great designer yarns on sale for half price. So I had to get some - really it was too good to pass up.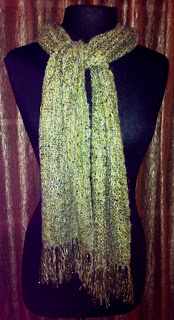 And that's the other thing about yarn. You can never use it all up. Because that perfect weft - half of the skein is left. So into the Rubbermaid tub it goes.
I'm really happy about how the scarf came out. It was soft, elegant and drapes nicely. Buying the perfect weft yarn - even with the left overs - was definitely worth it.