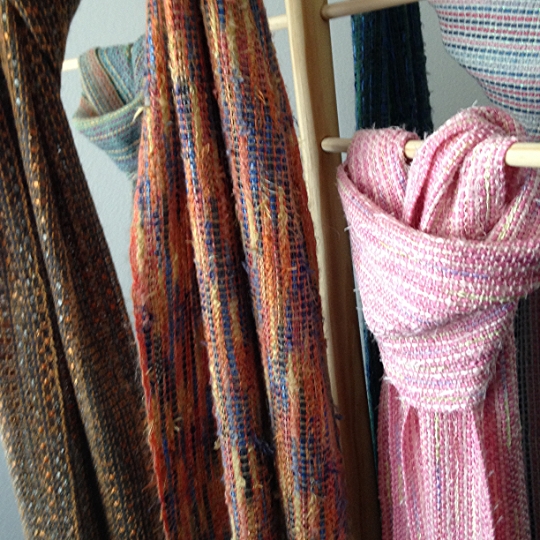 Handwoven Scarves and Shawls
Wrap up and stand out.
I make these scarves and shawls the way I like them - generously sized and designed to drape beautifully. Most of them aren't very heavy - just enough to keep the chill off on a cool evening or for a fashion statement during the day.
Each one is unique and each one has a story or an idea that inspired me.
Persistence Scarf
In January 2017 millions marched in a sea of pink. A hundred years earlier, women marched in white and purple and gold - in sashes and cloaks and cockades and carried them in banners - until their cloaks were ragged and the banners were faded. Until finally the 19th amendment was ratified on August 26th, 1920.
Buy this on Etsy
Orange Colored Sky Shawl
"I was walking along minding my business
When love came and hit me in the eye
Flash, bam, alacazam,
Out of the orange colored, purple stripes,
Pretty green polka-dot sky
Flash, bam, alacazam, went the sky."
Buy this on Etsy
Chartres Infinity Scarf
The cathedral in Chartres, France is known for the bluish-purplish light from its famous stained glass windows. This scarf has an almost stained glass effect form the blue and purple yarns, with the sheen of mohair and silk.
Buy this on Etsy
City Nights Scarf
The towering buildings are black with silvery lights. The sky is lightened from midnight to sea blue. The Phil is playing at the concert hall. You need something to liven up that black evening coat or dress. This elegant handwoven scarf could be it.
Buy this on Etsy

 
Pacific Sunset Scarf
In the winter, while the rest of the country is buried under snow, Southern California has warm weather and some amazing sunsets. The colors are astounding - the same vibrant colors that are in this scarf.
Buy this on Etsy
Teal Blues Scarf
Blues and greens - water colors inspired this scarf. It was a long, dry summer. Now, even though it's winter, hot dry winds have stirred up fires that are burning out of control. We need the cooling water to quench the fires and refresh our souls.
Buy this on Etsy
Winter Nights Scarf
Dark of night, gray shadows, moonlight on snow, shining icicles. This cozy yet fashionable scarf combines soft wool, faux fur, and sparkly tinsel to create this wintery effect. Consider pairing it with a warm coat, or a simple black dress. Better yet, take it for a walk in the moonlight.
Buy this on Etsy
My Blue Denim Shawl
Sometimes a shawl is just a shawl. Sometimes it's an idea. In this case an idea about a favorite pair of blue jeans and a crisp white cotton blouse - and a shawl to keep the chill off when you walk along the beach with your beloved at sunset. Or maybe it's just a shawl. You decide.
Buy this on Etsy
Chanel Inspired Scarf
Coco Chanel redefined and feminized tweed with vibrant pastels in her iconic suits. That's the inspiration for this scarf. Touches of pale chartreuse and lavender add pizzaz, as does the pale pink faux fur. Pair this with a tailored winter-white wool coat for a pick-me-up from the winter blues.
Buy this on Etsy
Autumn Whisper Scarf
Whisper soft and slightly sheer. Can you see the subtle stripe? Wear while picking late season apples, or stomping in a pile of leaves.
Buy this on Etsy
Sweet Hearts Scarf
Do you like Sweet Hearts? I do - more than chocolate, I confess. The colors of this hand woven scarf remind me of those little candies, available only around Valentines Day. This scarf is cozy enough to keep you warm, fashionable enough to make a statement and cheerful enough to brighten up even the dullest February day. Buy this on Etsy
Forest Greens Scarf
Pine forests are not one color. There is the dark green of the old trees, the bright green of the young trees, there are grasses and wild flowers under the trees, and brown needles that crunch when you walk on them.

This scarf is cozy, yet has an excellent drape. Take a hike. Wear this scarf.
Buy this on Etsy
To view items that are sold and no longer in my collection - click here.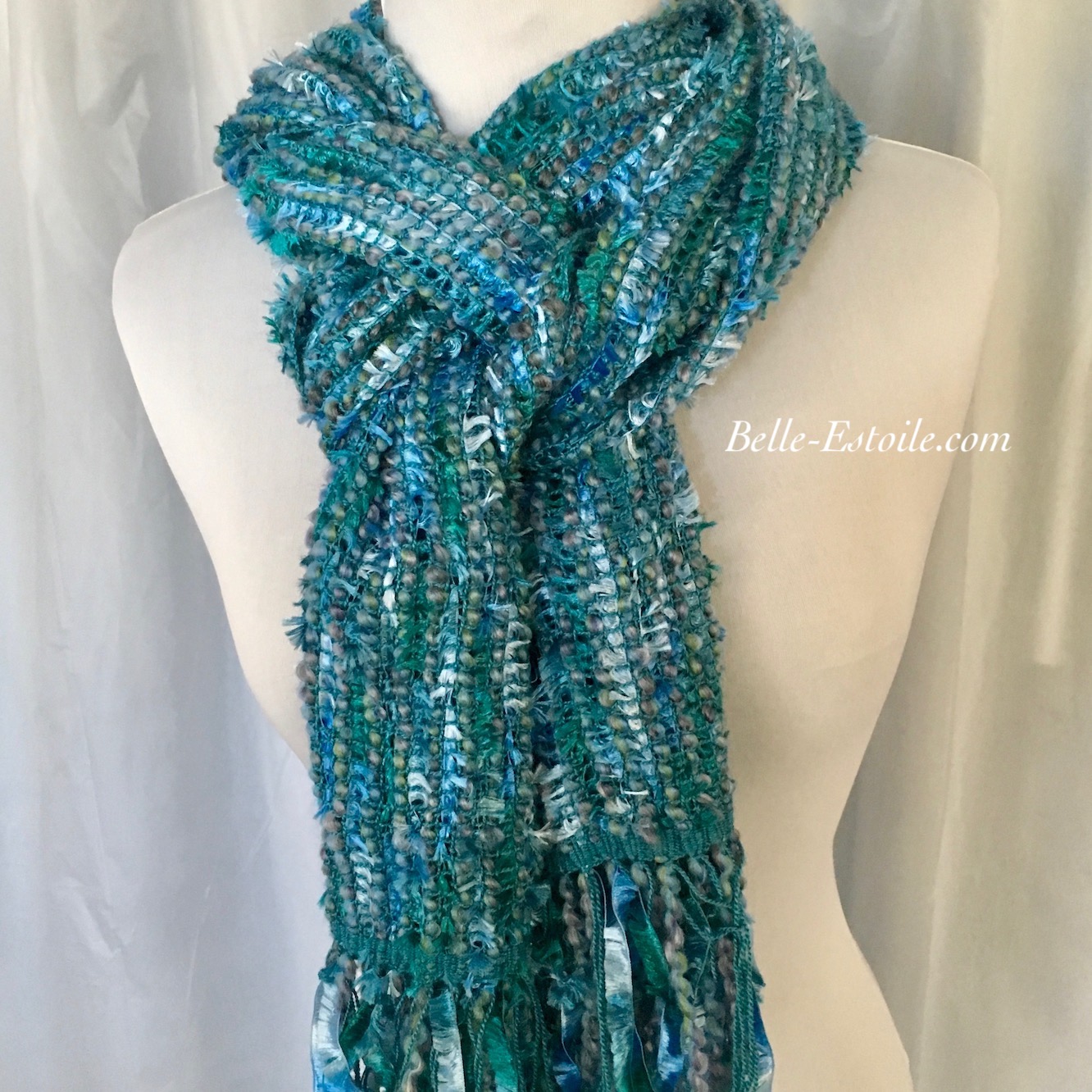 Autumn Sage Scarf
Exceptionally soft and drape-y; shades of cream, sage green and gold - with a hint of metallic.

Buy this on Etsy



Wedding Ring Scarf
Clear brown gemstones have always been my favorite - like the natural brown sapphire in my wedding ring. This scarf has a warmth that sparkles - just like you. Ultra-light at just 2.4 ounces - yes, it does pull through a wedding ring easily.
Buy this on Etsy

 

Spring Whisper Scarf
California weather is weird - it confuses the crocuses. They can come up any time between November and April. I've decided that whenever it is they come up, it's spring, even if it's just for a few days. It can feel like spring, whenever you wear this scarf.
Buy this on Etsy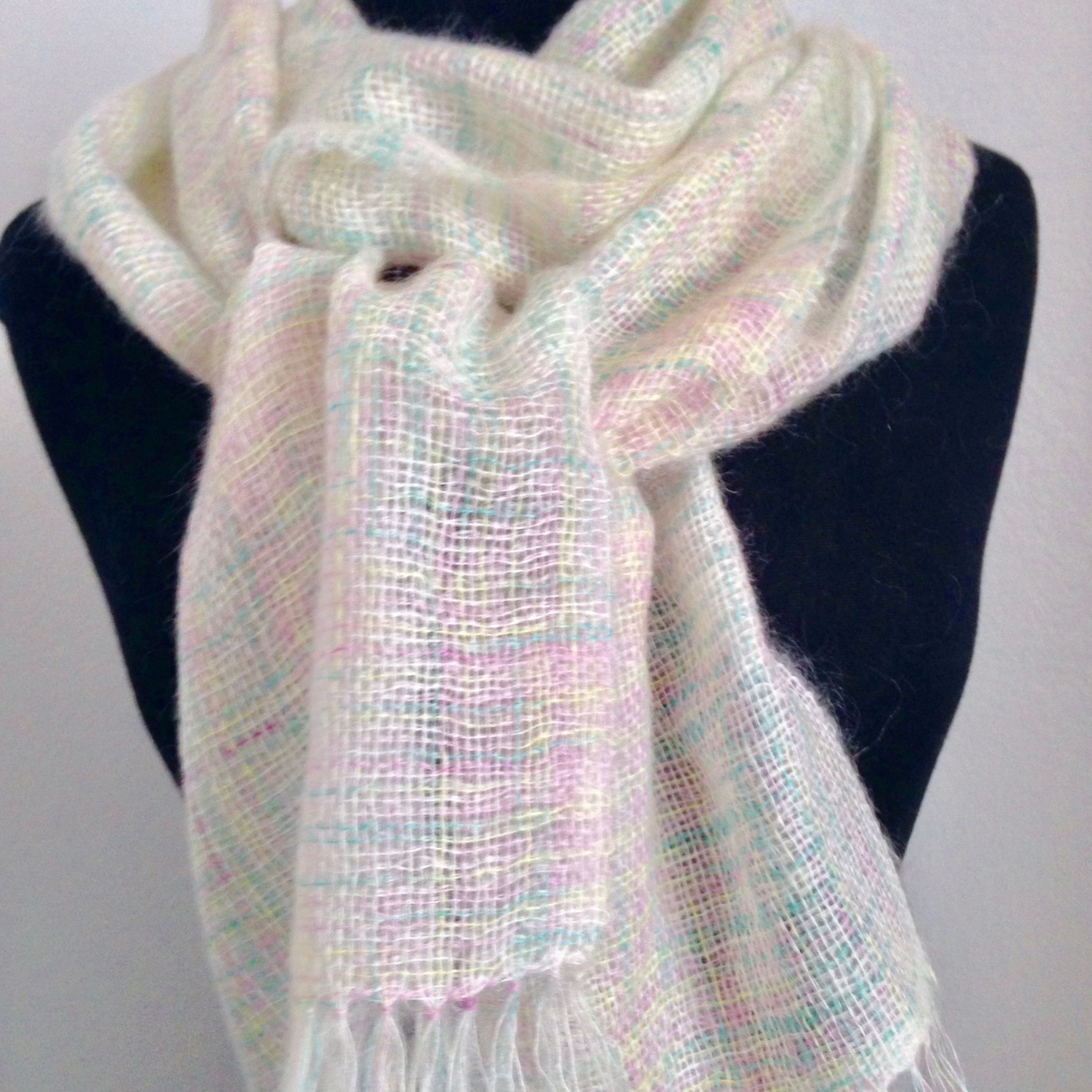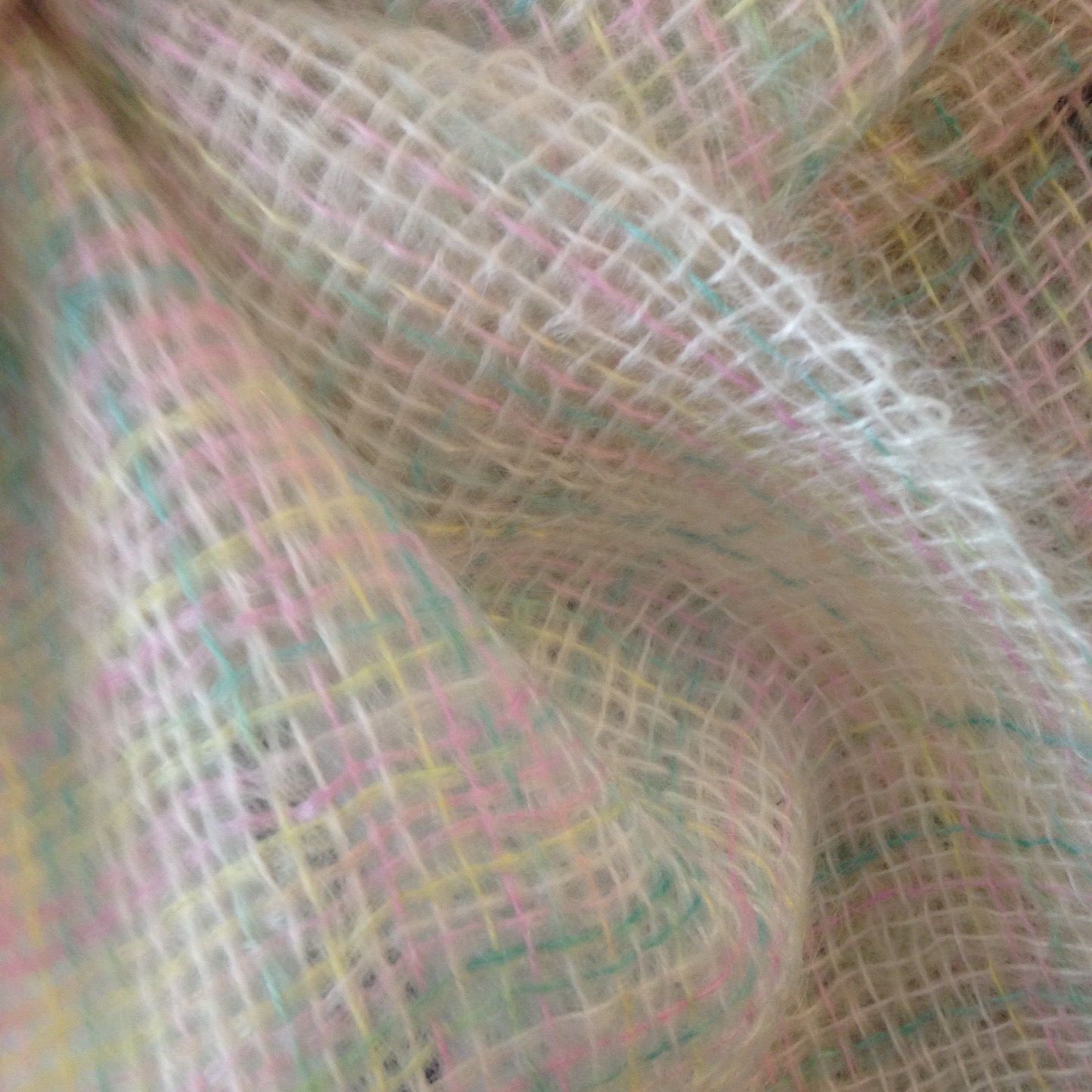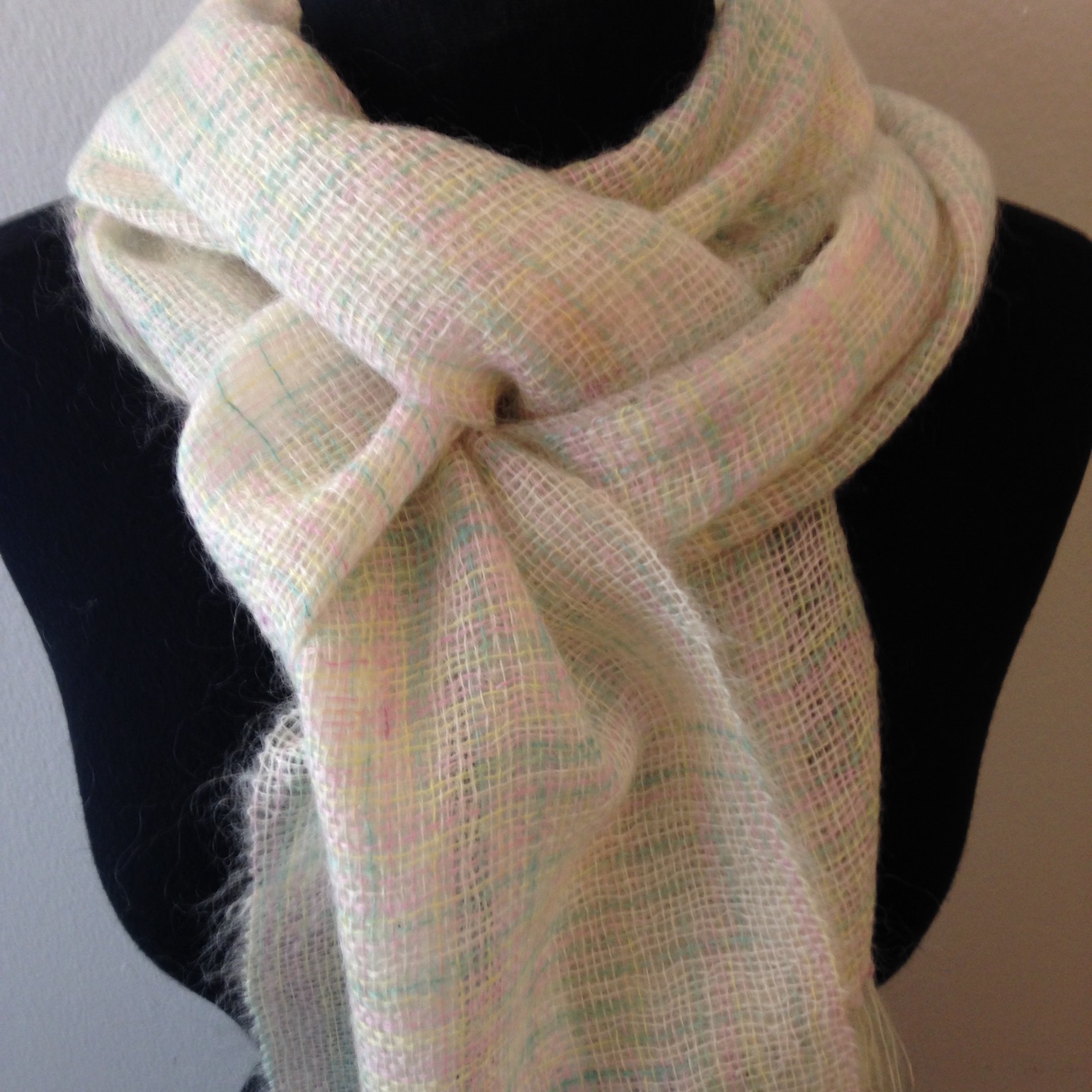 My Fuzzy Valentine Scarf
Roses are red, and candy is dandy, but a scarf will wrap her in a hug that lasts long after the candy is gone and the roses have faded.
Buy this on Etsy
Bomb Pop Scarf
I fell in love with this naturally dyed wool - indigo and cochineal - because it reminded me of a bomb pop - and I love bomb pops! I paired it with a little bit of icy sparkle and some soft whitewool. The result is this cheerful little scarf.
Buy this on Etsy

 
Copper Penny Scarf
Find a penny, pick it up.
All day long you'll have good luck.